This thing IS on (finally) and it is going to be quite a show from here until my "passion project" is done.
Thanks for starting the journey with me as I launch into an exhaustive project that I hope will be fun and entertaining, educational and probably a little poignant! There have been many good books written by some of the early practitioners of the art of radio and television broadcasting in Minnesota but none have covered the kind of territory I plan to with "On Air: A History of Broadcasting in Minnesota"  a book that chronicles the history of broadcasting in Minnesota, from radio to TV, metro area and Greater Minnesota, early days to the 1990's. (Hey, I have to cut it off somewhere!) In addition to a book, to be published by the Minnesota Historical Society Press, there's a companion documentary for the stations of Minnesota Public Television, and a traveling exhibit that will be seen in libraries and county historical society museums.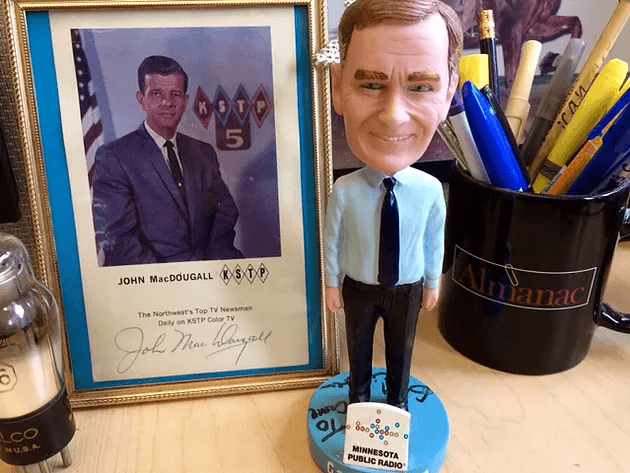 It is a lot, but I think I'm a perfect person to spearhead this project. If we haven't been introduced, I'm a veteran radio and television broadcaster who got her start out of college at KSTP-AM 1500. The great John MacDougall was my mentor. He's the guy who taught me how to write tight copy that got to the nut of the issue but also allowed the listener to "see" the story. An early promotional postcard of Mac (signed no less) sits on my desk at Minnesota Public Radio, along with a Gary Eichten bobble-headed doll. (Gary is one of my all time favorite radio journalists) Both are kept company by a Twin Cities Public Television "Almanac" mug (TPT is my other employer and has been for years!) and an old radio tube.
My career has spanned radio and television, both commercial and public. Every move I've made between stations has allowed  me to grow professionally and I've been blessed to work with some of the best broadcasters in the business. I'm thrilled and honored to be able to bring their stories to the wider public and maybe even a new generation.
So, stay tuned. I hope you'll follow my progress and for goodness sakes…if you have ideas or memorabilia or tapes (audio or video) you want to share…contact me! I'm all ears! Drop me a line at mnbroadcasthistory@gmail.com.