When you think of the first radio station in Minnesota, the venerable call signs of WCCO or KSTP might come to mind. The station that became known as WCCO radio (WLAG) went on the air September 4, 1922 out of a studio in the Loring Park area of Minneapolis.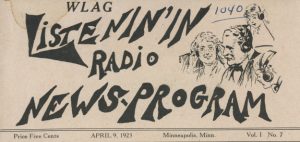 In fact, the University of Minnesota's KUOM beat WLAG by a few months. KUOM was the first station to go on the air in the state in January of 1922, using the call letters WLB. A number of years prior to that milestone, in the spirit of experimentation and education, the U of M's College of Engineering started an exploration of"wireless telegraphy"as early as 1912. In January 1916, the Engineering College planned to transmit coverage of a basketball game between the University of Minnesota and the visiting University of Iowa.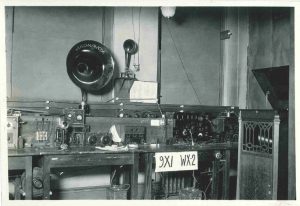 According to the research for my "On Air: A History of Minnesota Broadcasting" book and documentary, the U of M wasn't the only Minnesota institution of higher learning experimenting with this new fangled technology. It turns out the monks at St. John's University in Collegeville were busy building broadcast towers  as early as 1914.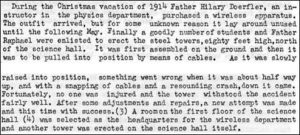 That first attempt didn't work but after some tinkering, the first "wireless message" was sent from the campus of St. John's in December of 1915 to the fine folks in nearby Melrose that their high school basketball team had been beaten by the Johnnies! Don't make the immediate tie between that pioneering broadcast and the creation of Minnesota Public Radio, which had it's beginnings at St. John's in January of 1967. That's another story for another time!